Hotel
Grand Hyatt Playa del Carmen Resort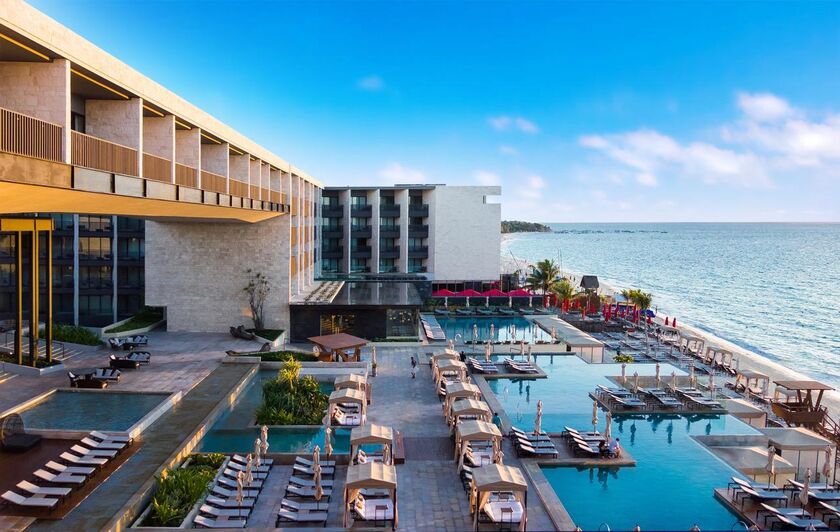 Calle 26 Nte, Gonzalo Guerrero, Centro, 77720 Playa del Carmen, Q.R., Mexico
+52 984 147 5038 | grandhyattplaya.reservations@hyatt.com

(Updated reservation information below)

Grand Hyatt Playa Del Carmen Resort is an impressive 5-star hotel right on the stunning sandy beach offering rooms with a spectacular view of the sea. Since 2014 the hotel has been hosting guests in a 5-story Mayan building.
Offering direct access to The Plaza, Grand Hyatt Playa Del Carmen Resort enjoys a beachfront setting in the heart of Playa del Carmen, 2km away from the City Center.

Grand Hyatt Playa Del Carmen Resort can be reached in a 55-minute drive from Cancun International airport.

Updated reservation information (1/9/19):

Additional rooms have been added to the room block and guests must book their rooms by the end of January to receive the discounted room rate. More rooms will be added to the room block as it fills up until the end of January. We recommend guests book rooms via one of the following 3 options:
1) Clicking the link below
2) Using the discount code G-ACTJ on the hotel website
3) Or by emailing the hotel directly at grandhyattplaya.reservations@hyatt.com
The room block is scheduled for February 21 - 24, 2019, but the hotel can be flexible with the discount if you would like to stay on dates outside that range.
All-inclusive plans are not available via the room block and the prices you will initially see online do not include taxes and fees (you will see final price at check-out window).
Travel and Transportation
Cancun International Airport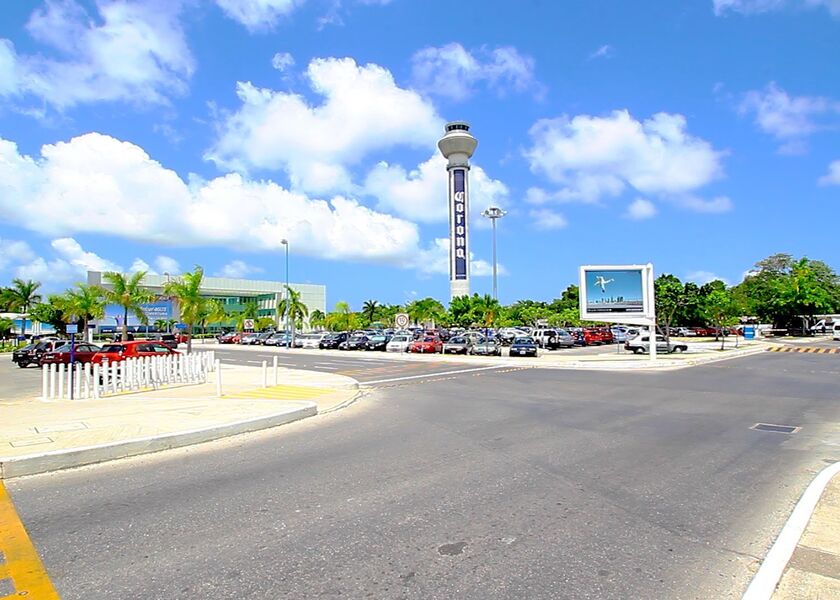 Carretera Cancún-Chetumal Km 22, 77565 Cancún, Q.R., Mexico

The Cancun International Airport, located between Cancun and Playa del Carmen, is about 55 minutes from the Grand Hyatt Playa del Carmen. They are well connected by a modern highway that makes for a fast and safe drive.
Below we've listed the main transportation options from the airport to the Grand Hyatt.
Further transportation information can be found at these helpful links: one, two, three.
Shuttle (no reservation needed - $20-30/person)
The shared 8-10 seat airport shuttles are a really good option if you traveling solo, as a couple, or a small group. Prices tend to run from $20-30 per person. When we traveled to Playa in September, we took the SuperShuttle for $22/person (purchased from their booth outside the terminal) and we were able to schedule our private return trip while we waited for the shuttle to arrive. After 30 minutes, we took the 1 hour 15 minute shuttle with 3 other American couples to Playa and the driver dropped each couple off right at their respective hotel.
Another recommended shuttle company is viator, which is a TripAdvsior company, but you are also able to book a shuttle in advance from several other companies via the Expedia ground transportation reservation engine.
Car Rental (no reservation needed)
Renting a car is one of the best ways to see and do some of the best things in the Yucatan. There are so many great places to check out and many day trips from Playa del Carmen will require a car for the full experience.
For some reason car rentals in Mexico are crazy cheap and are available from well known companies such as Hertz, Avis, Dollar, Thrifty, and Alamo. This is a great option for those who wish to tour areas such as Tulum, Cobá, etc., and many car companies have branches in Playa del Carmen if you do not wish to drive from the airport.
Driving in the Yucatan is super easy once you are outside of the cities. If you have Verizon or T-Mobile you will have coverage, otherwise consider picking up a local SIM card with Digicel to have data during your trip.

If you are going to rent a car, be sure to fully understand how insurance works in Mexico. The best thing to do is contact your own car insurance company and/or credit card company and ask whether you have rental car insurance and whether that insurance will cover you driving a car rented in Mexico. Liability insurance, which is required is Mexico, will be sold to you whether you ask for it or not, as it is required by law in Mexico; the cost is minimal, and most quoted prices include both tax and insurance.

ADO Bus (no reservation needed - $10/person)
ADO (pronounced in Spanish AHH-DAY-OH) bus company services the airport in a regular basis and takes people to Cancun or Playa Del Carmen. It's super easy and super cheap; a nice and easy ride that takes you right to the Playa bus station on 5th Avenue.
The buses run roughly every 20-30 minutes from 8:30am - midnight EST.
There is an ADO booth inside where you can buy your ticket, but many prefer to go outside and get it straight from the outside booth so you can jump right on the bus immediately after your purchase at the booth.
The trip takes about 1 hour and 15 minutes in a comfortable air conditioned bus. It will take you to the ADO bus station on 5th Avenue and Juarez Avenue, which is only a 1.4km walk (15-20 minutes) from the hotel down the beautiful pedestrian-only 5th Avenue.
From there you can walk to the hotel or take one of the taxis lined up at the bus station for roughly $6.
Directions to the ADO booth: From Terminal 3, walk out of the airport and veer right towards the large buses. Only speak with employees wearing an ADO logo on their shirt. Tickets may be purchased from a booth outside the terminal. From Terminal 2, walk 3 minutes outside to get to Terminal 3 and follow above directions.
Taxi (no reservation needed - $50-$90/group)
The easiest but usually most expensive option is to take a taxi or private car directly from the airport to the hotel. Prices will range from $50-$90 and there will be several vendors and booths outside the terminal offering this service.
We recommend approaching the booths on either wall rather than the vendors standing in the center as these vendors will often drag you through an unexpected timeshare pitch.

About Playa
The small fishing village turned resort city....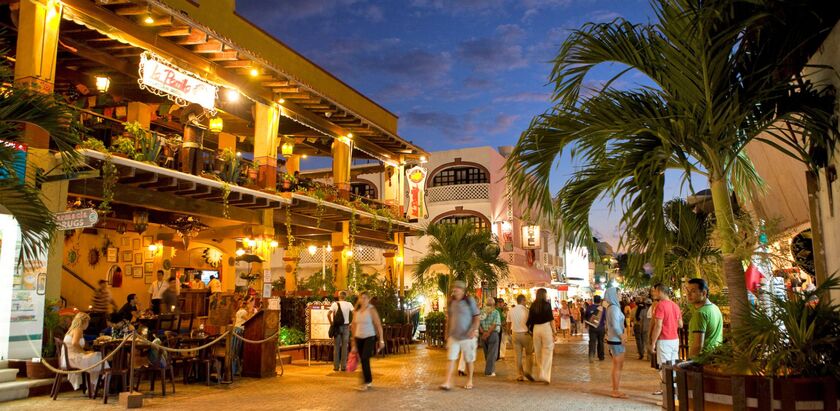 Playa del Carmen, now the third-largest city in Quintana Roo, ranks up there with Tulum as one of the Riviera's trendiest cities. It's known for its palm-lined beaches and coral reefs. Its Quinta Avenida pedestrian thoroughfare runs parallel to the beach, with blocks of shops, restaurants and nightspots ranging from laid-back bars to dance clubs.

Playa (as it's locally known) is ideally located: close to Cancún's international airport, but far enough south to allow easy access to Cozumel, Tulum, Cobá and other worthy destinations. The reefs here are excellent, and offer diving and snorkeling close by. Look for rays, moray eels, sea turtles and a huge variety of corals. The lavender sea fans make for a very picturesque visit.
Best Things To Do In Playa Del Carmen
The 10 Best Playa del Carmen Tours, Excursions & Activities 2019
The 15 Best Things to Do in Playa del Carmen