Our Story
From High School Sweethearts to Together Forever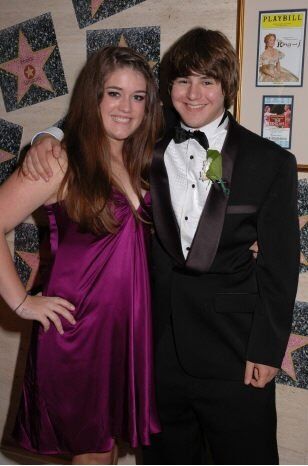 Our story began in 2008 when TJ moved to Houston from Paris with his family. He enrolled at Episcopal High School rocking bleached blonde hair, a neon hoodie, and a messenger bag. He was definitely not the traditional EHS student and he certainly caught Amy's eye! We were both theater nerds and were cast in the Fall production of Our Town. We quickly became friends and after a first date to the movies, we knew it was meant to be. Time flew by and soon we started dating from rival schools: the University of Texas and Texas A&M. TJ used to drive back and forth from Austin almost every weekend! Amy later transferred to Texas A&M and much to the dismay of her Longhorn parents, became a Fightin' Texas Aggie.
Almost 8 years later, after numerous trips together - we took a trip to Paris in September 2017! TJ really wanted to go to the top of the Eiffel Tower and convinced Amy to take the stairs all the way up...42 floors later, he pulled out a box from his pocket and proposed at the very top! We can't wait to keep traveling around the world and through life together - it's going to be a great trip.

The Wedding
Saturday, February 23, 2019
6:00 PM
Attire: Summer Cocktail - We will be on the beach for the ceremony and outside for the reception, so keep that in mind!
Ceremony and Reception
Grand Hyatt Playa del Carmen Resort
1a Avenida esquina Calle 26 Colonia Centro, Gonzalo Guerrero, 77710 Playa del Carmen, QROO, Mexico
Our wedding will be held at the beautiful Grand Hyatt Resort in Playa del Carmen, Mexico! Please see the Details section for more information.
Wedding Party
Nicolette Cueto - Maid of Honor
Kayla Hutchinson - Bridesmaid
Natalie Gabler - Bridesmaid
Aaron Callender - Bridesman
Will Stevenson - Best Man
Andrew Callender - Groomsman
Scott McCormick - Groomsman
Raul Perez - Honoree Groomsman